Demo of a Full Face Makeup Application using Brushes
See how I'm using all of Avon's new fmg dual-ended makeup brushes to apply my full face of makeup. From concealer and foundation, to powder and blush, and eyeshadow and eyeliner the new fmg makeup brushes are the perfect tools for flawless application.
Why Use Makeup Brushes?
When applying makeup, using your fingers may seem like the easier, cost-efficient route, but germs and bacteria can spread onto skin and you might not get the most even or well-blended coverage. Makeup brushes are a great way to ensure that makeup is perfectly blended while avoiding bacteria (that can result from directly touching your face). Not to mention, brushes help apply makeup faster and more effectively.
Just don't forget to clean your brushes on a regular basis—you can use a mild shampoo, facial cleanser or dish soap. Once the bristles wear out and don't work as effectively, it's time to replace the brush.
Whether your beauty routine is simple and to the point or involves numerous steps, we've got makeup brushes for every look—and they're vegan, too.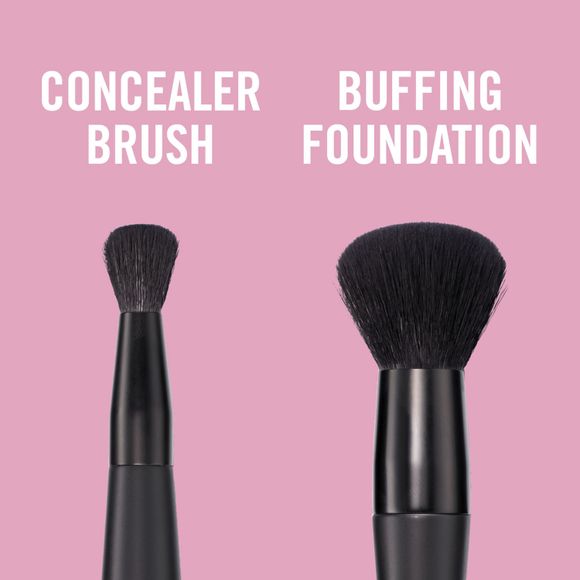 BEST COMPLEXION BRUSH
Brushes are a great way to apply foundation and concealer to get the coverage you want, whether it's sheer, medium or full. Use a blending brush like fmg Complexion Blending Brush, which features a dense, large rounding buffing brush to help blend your foundation. Simply swipe liquid or powder foundation on your face and buff or stipple to blend. This versatile, double-sided brush also doubles as a concealer brush. Using the small side of the brush, tap your concealer on the desired coverage area.
Step 1 Concealer using Complexion Blending Brush
I start with the Magix Corrector to cover the dark circles under my eyes and shadows created in the transition from my under-eye area to cheek. The Complexion Blending Brush allows me to get a very sheer coverage to start and build where I need a bit more.
Step 2 Foundation using Complexion Blending Brush
Next I use the larger end of the Complexion Blending Brush to blend out my Cashmere Complexion Longwear Foundation. The brush works beautifully to blend the foundation evenly over my skin with a sheer finish where I need a little coverage and building to fuller coverage where needed.
This brush also works very well with cream to powder foundations like our new Match Filter Serum Tint Foundation and powder foundations like Cashmere Compact Powder Foundation
By the way, the Cashmere Complexion Longwear Foundation is a Good Housekeeping Magazine 2021 Beauty Award Winner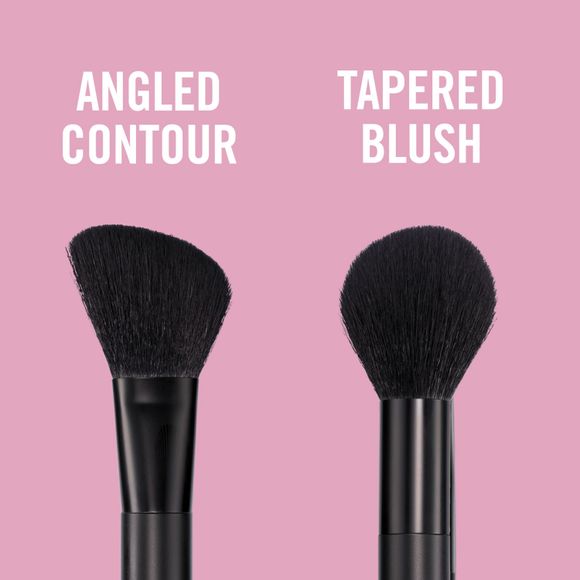 A 2-IN-1 BLUSH BRUSH & CONTOUR BRUSH
Achieving the perfect flush is all in the brush. You want to make sure your blush is perfectly blended and noticeable, but not cakey or clown-like. Using the oval side of the fmg Blush & Contour Brush, apply blush slightly above the cheekbones. You can also use the tip of this brush to apply highlighter to the high points of the face.

For more ways to blush, check out our collection of blush and bronzer.

For contour makeup, use the angled end of the brush and apply your makeup along the temples, cheekbones and jawline to sculpt the face. We love creating a beautifully contoured look with the Magix Wand Foundation Stick, which comes in 9 shades, so you can use a few different ones to build your contour before you blend.
Step 3 Setting Powder using Blush and Contour Brush
A bit of setting powder helps to keep foundation and concealer in place longer so I follow my complexion steps with a light sweep of the Magix Dust using the round/domed end of the Blush and Contour Brush. I dip the brush in the powder, tap off the excess and sweep over the face in a downward motion.
Step 4 Blush using the Blush and Contour Brush
Today I'm using a pressed powder from a limited edition multi-palette we sold in a previous season. With pressed powders you just sweep the angled end of the Blush and Contour Brush over the palette and apply to the apple of cheeks and along the cheekbone. With loose powders be sure to tap off excess powder before applying to avoid getting more color than you want. It's easier to go back and apply later than try to blend out too much color
This brush is also perfect for contour and bronzing powders because the angled head gives a very controlled application while the soft dense bristles blend out the color for a natural look.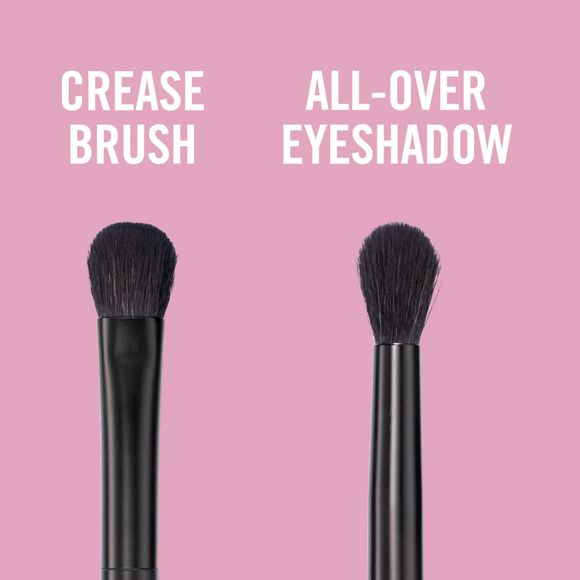 EYESHADOW BLENDING BRUSH
Building an eyeshadow look can be tricky—you want to make sure your application looks even and if you're layering shades, they appear perfectly blended. The fmg Eyeshadow Blending Brush is here to make this task easier. It features a domed crease brush on one end and a flattened, all-over eyeshadow brush on the other.

Use the domed brush end with a palette like fmg Cashmere Eyeshadow Palette, applying eyeshadow into the crease of the eye or to buff and blend eyeshadow in circular motions. When applying a singular eyeshadow shade, like fmg Glimmer Longwear Gel Eyeshadow, press eyeshadow onto the eyelid with the flattened brush end. For more eye-enhancing shadows, discover our full eyeshadow collection.

Step 5 Eyeshadow using the Eyeshadow Blending Brush
The two ends of the Eyeshadow Blending Brush mean you always have the perfect brush for applying your powder eyeshadows. The rounder end is great for and all over application while the flatter/wider end works well for both applying color in the crease and for wide sweeps of color. Both ends are perfectly suited for blending multiple shade applications like you might have when using the Glimmer Eyeshadow Quads.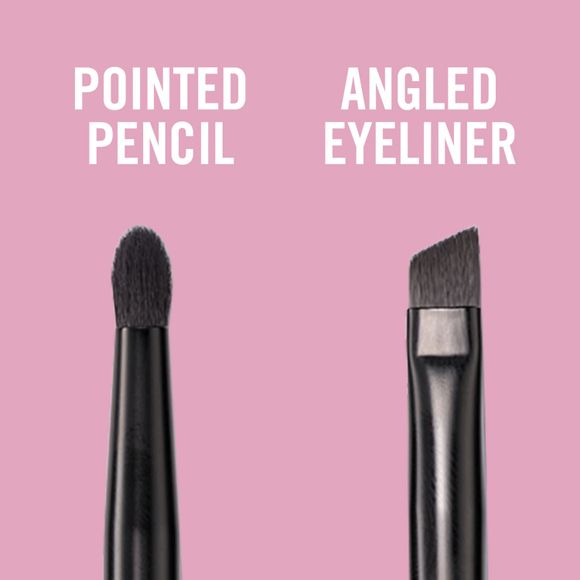 PRECISION EYE BRUSH
A versatile brush like fmg Precision Eye Brush is great for perfecting those eyeliner looks. Use the small angled brush end to apply eyeliner that comes in a pod, like a gel eyeliner or liquid eyeliner. We love to use this brush with fmg Glimmer Longwear Gel Eyeliner. You can also use it brush to transform your favorite eyeshadow into an eyeliner. Simply dip, line and draw a wing. The pencil brush end can be used to highlight the inner corners of the eye and under the brow bone, plus it's great for smudging.


Step 6 Eye Liner using the Precision Eye Brush
The angled end of the Precision Eye Brush is one of my favorite makeup tools. I love using powder eyeshadows to enhance my pencil eyeliners or to line my eyes with colors coordinated to my eyeshadow that aren't available in a pencil. Dip the angled brush in your desired eyeshadow shade and draw the flat edge across the last line. This end is also the perfect tool for applying gel eyeliners like the Glimmer Longwear Gel Eyeliner
While I did not use it in this demo the rounder end of the Precision Eye Brush is perfect for very precise applications of powder eyeshadows, and also precision or all over applications of gel eyeshadows like the Glimmer Longwear Gel Eyeshadow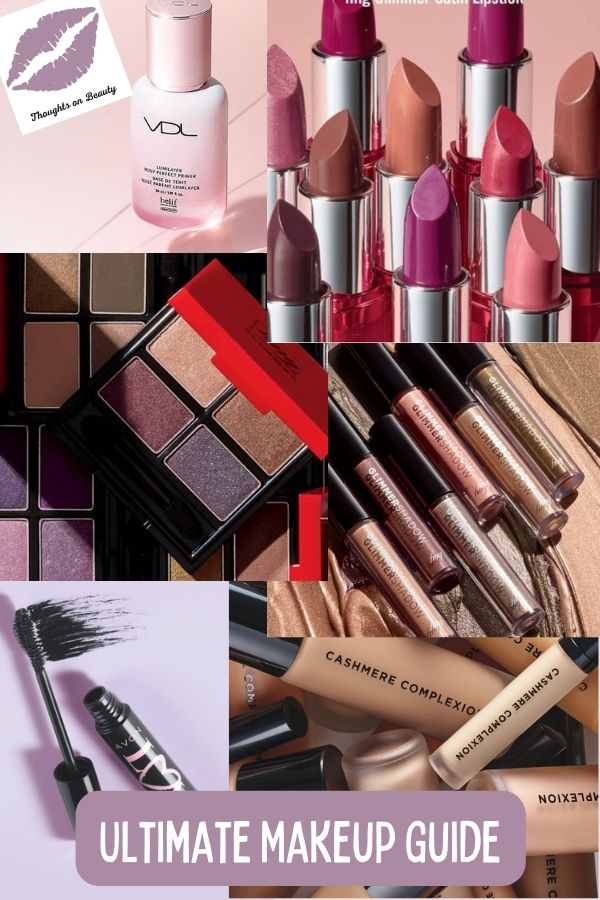 Makeup routines range from a quick mascara and lipstick all the way to a full face with all the bells and whistles. Whether you have a go-to look you wear every day or you like to change it up based on your mood or what's on your plate for that day, Let's take a look at all the steps you might like to add in your makeup routine and the products and tips that can help you get the perfect look and routine for you.

Join the Thoughts on Beauty group on Facebook to get sneak peeks at upcoming products, insider info and a bit of fun. Plus special VIP "private sale" offers.
Let me be your personal shopper
Life is often busy so sometimes it can be hard to find time to sift through all the wonderful products we have to offer. I am always happy to do the shopping for you. Let me know what you are looking for and whether it's a favorite product you want to reorder or you are looking to try something new I will find all the options for you and help you to choose which one will be the best fit for you.
Enter for a chance to win our latest sweepstakes or giveaway from Avon and your Avon Representative
First time visiting Thoughts on Beauty? Learn more about what we have to offer on our Welcome Page.
If you enjoyed this article, be sure to follow me on your favorite social channel.
Last Updated on January 21, 2023 by avonladychris