History of Avon Skin So Soft
Avon has been delivering quality beauty products for more than 130 years. Some of our first products have turned into iconic beauty brands that customers know and love. One of our most well-known product lines is the Skin So Soft collection, which launched in 1961. It all started with a bath oil.

The very first Skin So Soft ad, from 1961 reads, ''See how with one bath, it improves the texture of dry, flaky uncomfortable skin."
The first Skin So Soft bath oil, called 'Skin So Soft Emollient Bath Oil,' was made with emollient oils and scented with balsam, evergreen and herbs. It was packaged in a glass perfume-like bottle with green and writing and an 'SSS' logo. Shortly after, Avon also launched a Skin So Soft bar soap and after shower smoother. Skin So Soft Original Bath Oil remains Avon's most popular and iconic bath and body product today.
Nearly 60 years later, Skin So Soft Original Bath Oil retains the same properties as the first formula—it's soothing and moisturizing with a fresh herbal scent.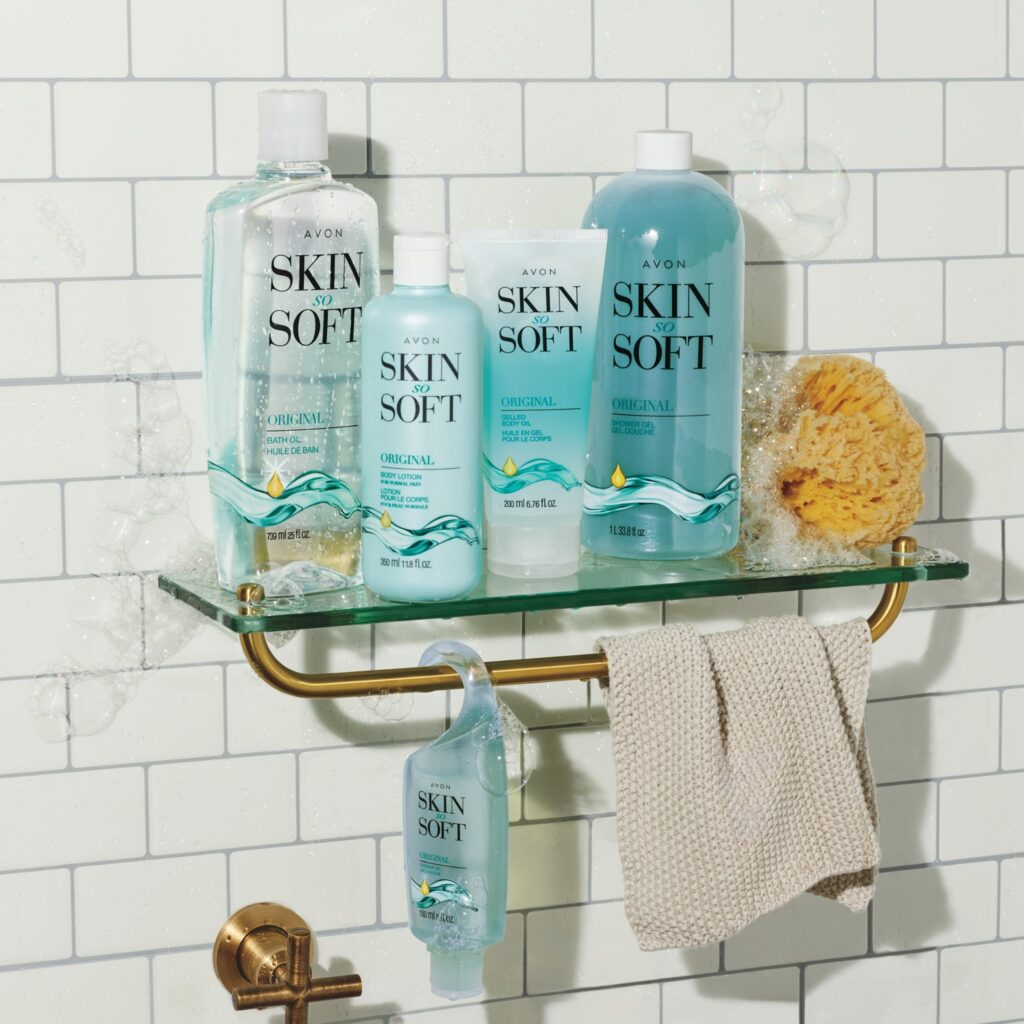 And customers still love the original formula. "I have been using SSS for at least 40 years," says Jan C. "I have used the original scent body lotion the most because I love the scent (it's not overpowering), it works all day and it makes my skin so smooth."

For Tamara F., Skin So Soft was passed down through her family and remains a staple in her body care regimen. "My mom loved Avon and Skin So Soft in particular and I can remember a bottle (or two!) sitting on the bathroom shelf," Tamara says. "Sixty years later, it sits on a shelf in my bathroom, and for the same reason: its green herbal scent and skin softening properties are still loved because they still work!"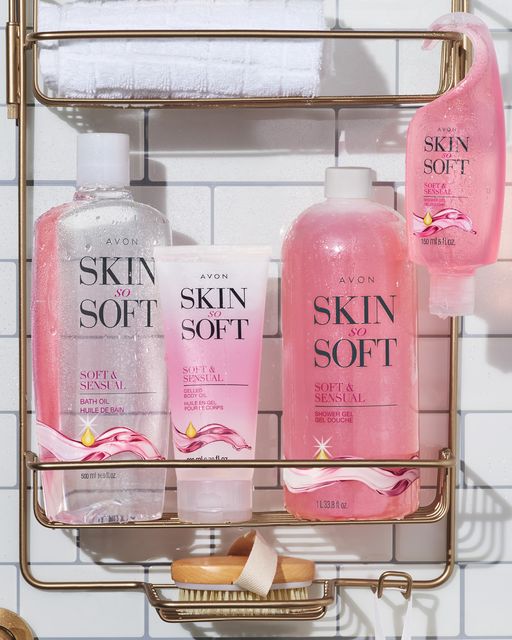 While Skin So Soft Original Bath Oil remains similar to the inaugural product, the full Skin So Soft collection has changed over time with modern packaging and improved formulas.

Skin So Soft's brand logo used to feature three big S's in a dainty sans-serif font, usually in a vibrant color like pink or green. The logo received a major rebrand, and now each bottle is emblazoned with the words Skin So Soft in a black serif font in large letters.

The Skin So Soft product line has expanded to include a variety of bath oils, body washes and lotions. Today, there are three main formulas: Skin So Soft Original, made with jojoba oil, Skin So Soft Soft & Sensual, which restores skin's radiance with a spicy floral scent, and Skin So Soft Radiant Moisture (formerly known as Signature Silk), complete with an updated formula of silk proteins and illuminator technology. We've also added in Skin So Soft Supreme Nourishment, a line of ultra-nourishing bath and body formulas with coonut oil and Skin So Soft Comforting Shea, a collection of bath and body formulas made with hydrating shea butter.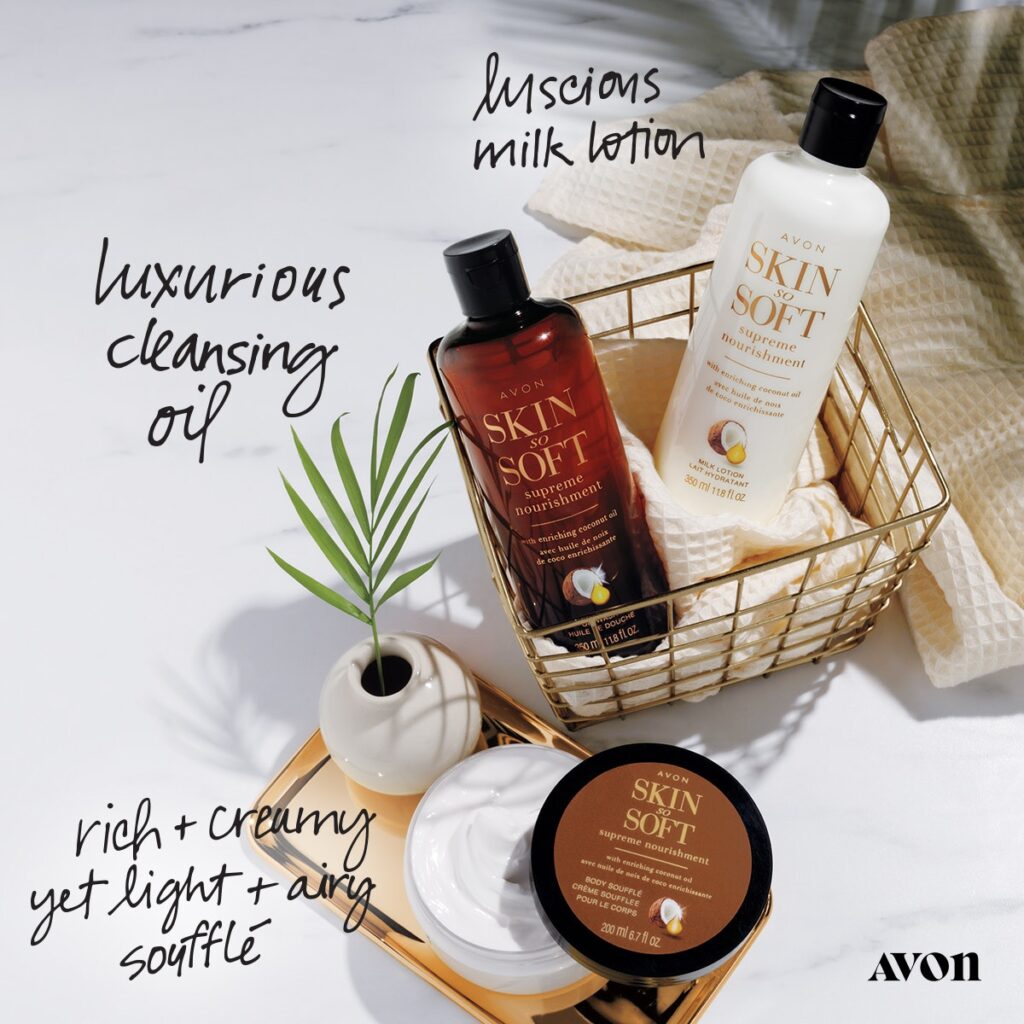 Skin So Soft formulas are known for their value, their ability to hydrate and soften skin and their luxurious pampering properties. This brand has become iconic in its 60-plus years of existence, and it continues to be Avon's #1-selling body care brand. Skin So Soft is a name that Avon customers—from grandmothers to mothers (even fathers!) and children—know and love.

"It seems to be just right for everyone," says customer Ann M. "I have never known anyone that did not like the Skin So Soft products. They can be used for all people, including our husbands, and they work wonders with the skin. I can't say enough about the fragrance as it is something that lingers with you and even when you think about the product, you can still remember the fragrance."

Join the Thoughts on Beauty group on Facebook to get sneak peeks at upcoming products, insider info and a bit of fun. Plus special VIP "private sale" offers.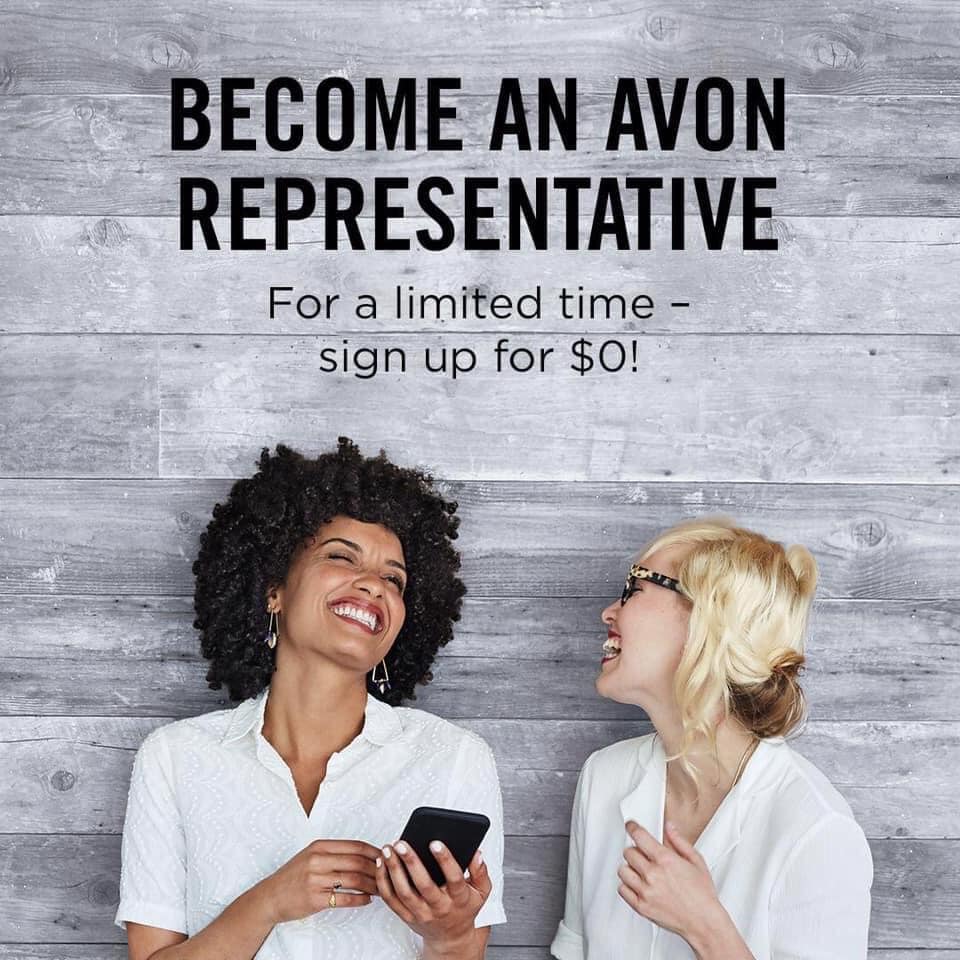 You already know and love beauty. Why not sell it?
Get all the digital tools you need.
Save 25% on your personal Beauty purchases
or earn 25% on your customer's purchases.
Get 20% discount/earnings on Fashion and Home.
Plus bonuses based on your sales and/or team sales.
Join My Team Today for Experienced Support
Enter for a chance to win our latest sweepstakes or giveaway from Avon and your Avon Representative
First time visiting Thoughts on Beauty? Learn more about what we have to offer on our Welcome Page.
If you enjoyed this article, be sure to follow me on your favorite social channel.
Last Updated on January 31, 2023 by avonladychris