Express Yourself and Care for Your Hair with Arctic Fox, Now Available from Avon
My daughter has been coloring her hair for years using home color kits and traditional hair color from the beauty supply store. She often chooses very bright and vivid colors so when Avon announced our partnership with Arctic Fox she was eager to try the Arctic Fox Semi-Permanent Hair Color and see how it compares to the products she's used in the past.
Her natural shade is a medium brown (about a level 5) and her current color is a medium red about the same level. See more about levels below.
Her target color was a more vivid pinkish red shade. One main difference between Arctic Fox and other bright hair colors is that it does not use any developer so it does not lighten your color at all, only deposits new color. Since she was starting with a medium to dark color and did not want to pre-lighten her hair, she choose darker shades of the Arctic Fox color. Lighter shades would not have given the vivid results she wanted. She choose Arctic Fox in the shade Wrath and mixed it with the shade Purple AF. She used 4 parts Wrath to 1 part Purple AF and got just the shade she was looking for.
Here are some of her observations about the product and the coloring process
There is a lot of pigment so you'll want to be sure to wipe up any drips on surfaces and clean any color off skin quickly to prevent staining. This was similar to other bright colors she had used.
The color has a pleasant grape scent. Much nicer than the typical chemical smell with most hair colors.
No mixing necessary unless you're mixing multiple shades to create a custom color.
The product has a thicker consistency than home hair color kits and can easily be worked through hair like conditioner with less worry about drips. Application with a color application brush would have also worked well.
Her hair felt soft and conditioned after coloring.
About Arctic Fox Semi-Permanent Hair Color
At Avon, we believe in supporting brands that do good. That's why we're happy to announce that we now offer Arctic Fox Hair Color & Care – DIY hair color and care that's 100% vegan, cruelty-free and formulated from natural ingredients.

Plus, the Arctic Fox semi-permanent hair color collection lets you "do you," in a new hue, all while giving back to animals! Arctic Fox will donate 15% of its net profits to charities to help prevent animal cruelty and promote animal welfare. #DyeForACause

Get in the mood for color with 10 fantasy shades, from pretty pastel to brilliant technicolor, plus this new collection has what you need from start to finish – You can even add a bleach kit if you'd like to pre-lighten your hair. So start expressing yourself with color and feel good about giving back at the same time through Arctic Fox, now at Avon! #AvonxAF

Vegan, cruelty-free semi-permanent hair color.
Arctic Fox products are made of natural ingredients that contain no drying alcohols, PPDs, or harsh chemicals. After two years of dedicated research and development, a highly-pigmented color formula was created and designed to bleed less and to help prevent staining. All colors will fade, but not all fade equally. AF is formulated to fade within the original color spectrum, so as the color lightens, the shades will continue to be the gorgeous tones that you wanted. AF hair care products are also vegan and cruelty-free, contain zero harsh chemicals and are made with your hair's health in mind. Best results with pre-lightened hair
About Hair Levels and What to Expect from Semi-Permanent Hair Color
How do you know what level your hair is? When we talk about your hair "level" it's just a standardized way to identify the lightness of your hair. When you're using semi-permanent hair color, your hair color is integral to the end result. Whatever shade you're craving you'll find helpful hints when it comes to achieving your "dream hair!"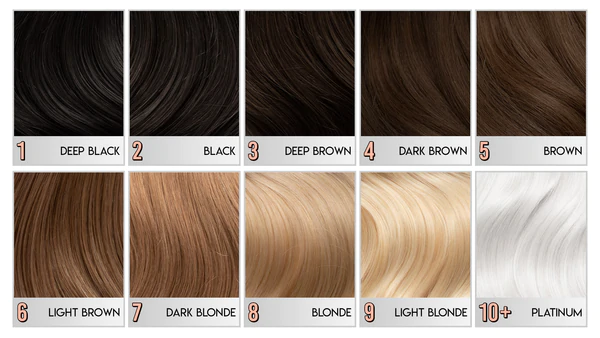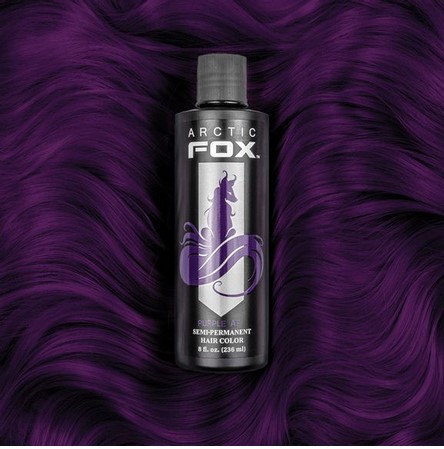 Arctic Fox Purple AF Semi-Permanent Hair Color
We don't want to rain on anyone's parade, but Purple AF is one of our faves. This deep, true purple is a versatile color that works well on a variety of base colors from platinum to light brown, giving deep tints of color to darker hair and showing vibrantly on lightened hair. It even works well to cover up other faded colors!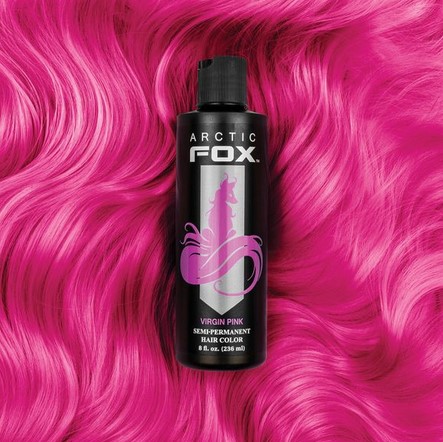 Arctic Fox Virgin Pink Semi-Permanent Hair Color
Picture this: You're laying on the beach with flowers in your hair. Ready to bring those tropical vibes everywhere you go with Virgin Pink? This vibrant hot pink will give a deep magenta tint to light brown hair, and will turn out most vibrantly on pre-lightened hair—no need to fear brassy tones with this shade.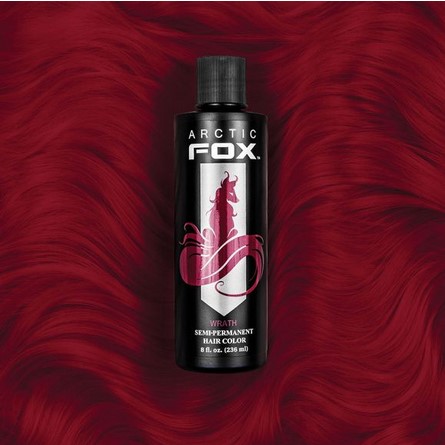 Arctic Fox Wrath Semi-Permanent Hair Color
Red lips, red nails, red hair—you can have it all with Wrath. This bold classic never goes out of style! Wrath is a deep red with berry undertones which can become pinker as it fades. It shows up well on brassy tones and gives dark, dimensional tints to darker hair. This shade turns out best on hair pre-lightened to a level 7.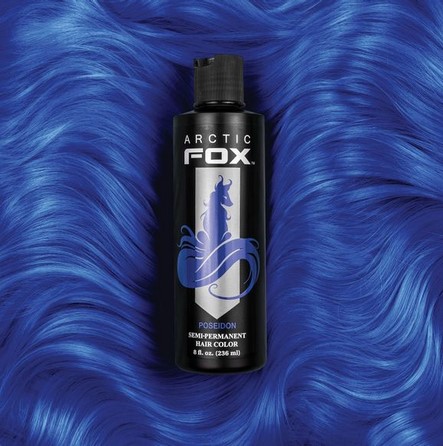 Arctic Fox Poseidon Semi-Permanent Hair Color
Make some serious waves with this mythical shade. Poseidon is a vibrant, medium true blue. For the most vivid results, this oceanic color should be applied to hair that has been pre-lightened to a cool-toned level 8 or lighter.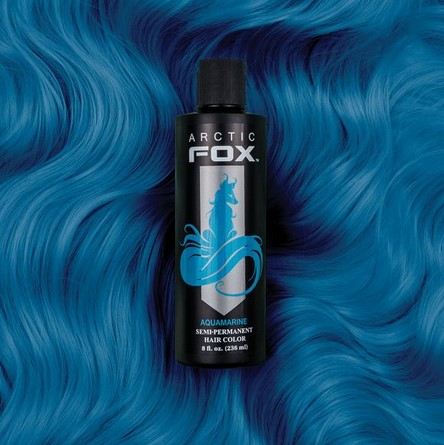 Arctic Fox Aquamarine Semi-Permanent Hair Color
Mermaid vibes for days! Aquamarine is one of our most pigmented blues with aquamarine/teal undertones. It'll turn out most vividly on pre-lightened hair, but will still work to give a deep teal tint to darker shades of unbleached hair.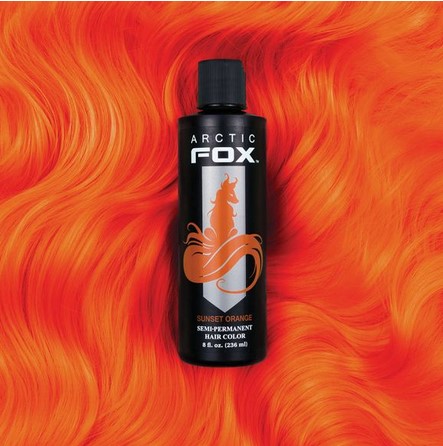 Arctic Fox Sunset Orange Semi-Permanent Hair Color
Is it hot in here or is it just you?! Sunset Orange is a fiery, deep red-orange that turns out well on a more medium blonde! Brassy tones won't cause any problems for this color. Since it's primarily red-based, the red undertones of Sunset Orange may come through more strongly on hair that is more of a light blonde, around a level 9 or lighter.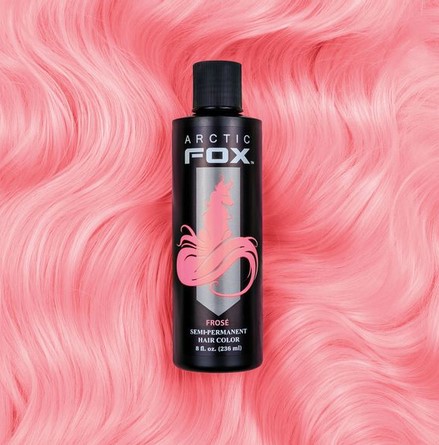 Arctic Fox Frosé Semi-Permanent Hair Color
Baby pink on tap? We have that. This pastel pink shade shows up brightest on platinum hair, but will appear as more of a dusty pink/rose gold on yellow-toned blonde. How Frosé shows up on different levels of blondes will vary depending on if you have naturally blonde hair or it's dyed that way etc. Use straight out of the bottle and enjoy Frosé responsibly.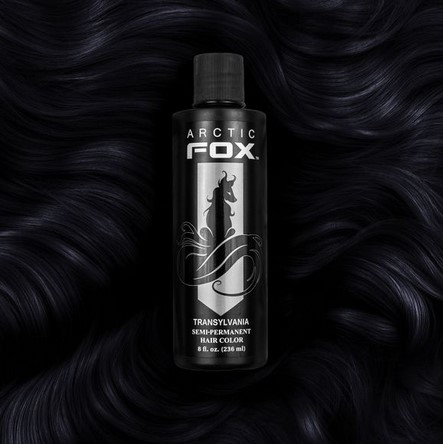 Arctic Fox Transylvania Semi-Permanent Hair Color
Raven wings, stormy night skies, and hair as black as your heart—Transylvania is the perfect fit for achieving your darkest dreams. This primarily blue-based jet black will take well to a variety of base hair colors but will show as the darkest, truest black on hair lightened to around a level 7 or lighter.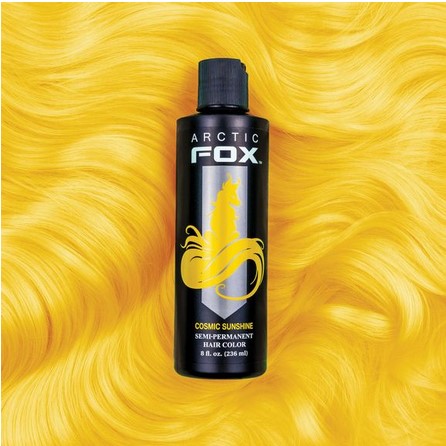 Arctic Fox Cosmic Sunshine Semi-Permanent Hair Color
You're a ray of sunshine—now your hair can be, too! Cosmic Sunshine is a lively, sunny yellow shade! As a lighter color, it will turn out best on hair that is lightened to a level 8 or lighter; brassy tones may give it more of a golden glow.

Join the Thoughts on Beauty group on Facebook to get sneak peeks at upcoming products, insider info and a bit of fun. Plus special VIP "private sale" offers.
Let me be your personal shopper
Life is often busy so sometimes it can be hard to find time to sift through all the wonderful products we have to offer. I am always happy to do the shopping for you. Let me know what you are looking for and whether it's a favorite product you want to reorder or you are looking to try something new I will find all the options for you and help you to choose which one will be the best fit for you.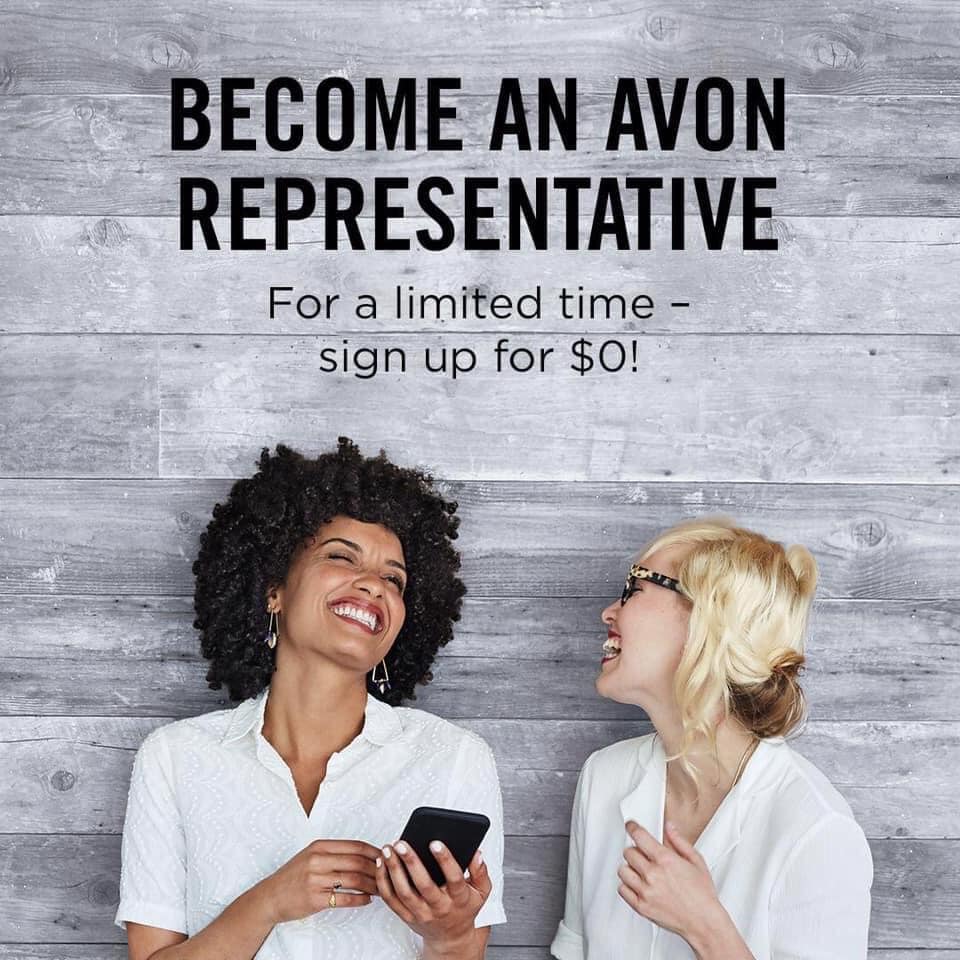 You already know and love beauty. Why not sell it?
Get all the digital tools you need.
Save 25% on your personal Beauty purchases
or earn 25% on your customer's purchases.
Get 20% discount/earnings on Fashion and Home.
Plus bonuses based on your sales and/or team sales.
Join My Team Today for Experienced Support
Layering Your Skincare
It's a common question. I have several products in my skin care routine and I'm not sure what order to apply them in. Here are …
Enter for a chance to win our latest sweepstakes and giveaways from Avon and your Avon Representative
First time visiting Thoughts on Beauty? Learn more about what we have to offer on our Welcome Page.
If you enjoyed this article, be sure to follow me on your favorite social channel.
Last Updated on July 30, 2022 by avonladychris