New Cushion Foundation That's Soft as Cashmere
Nourishing and exquisite, indulge in the luxury of Cashmere Cushion Foundation
Our Cashmere Complexion line is all about luxury feel, luxury texture and luxury finish. Combined with skin loving ingredients like calendula extract, niacinamide and squalene you get a foundation that looks great, feels great and boosts skins moisture and brightness.
The lightweight, breathable formula allows for hours of comfortable wearability and applies evenly, helping to cover the look of imperfections with buildable velvety soft matte color.
Instead of using a bottle for liquid foundation and a separate cushion tip applicator, our latest innovation contains cushion technology that is filled with fmg Cashmere's smooth liquid foundation for compact and mess-free application.
A cushion foundation take the guesswork out of how much product to use and gives you more application and coverage control. Its compact packaging makes it easy to use and easy to carry.
Skin Loving Ingredients
Calendula extract for soothing
Niacinamide for brightening
Squalene for moisturizing
Other Benefits
Light to medium coverage
Includes sponge puff applicator
Free from parabens, phthalates and fragrance
Travel friendly formula – no more spills in your bag
No mess application
Available in a beautiful shade scope for various skin tones ranging from light to deep with warm, cool and neutral undertones.
How to Apply
After skin care and primer, use sponge puff applicator and press into cushion to pick up foundation. Then pat onto center of face and tap lightly to blend outward.
Tapping is key to achieving a smooth, even application! Do not rub or drag the product on your face. Treat each tap like a small kiss.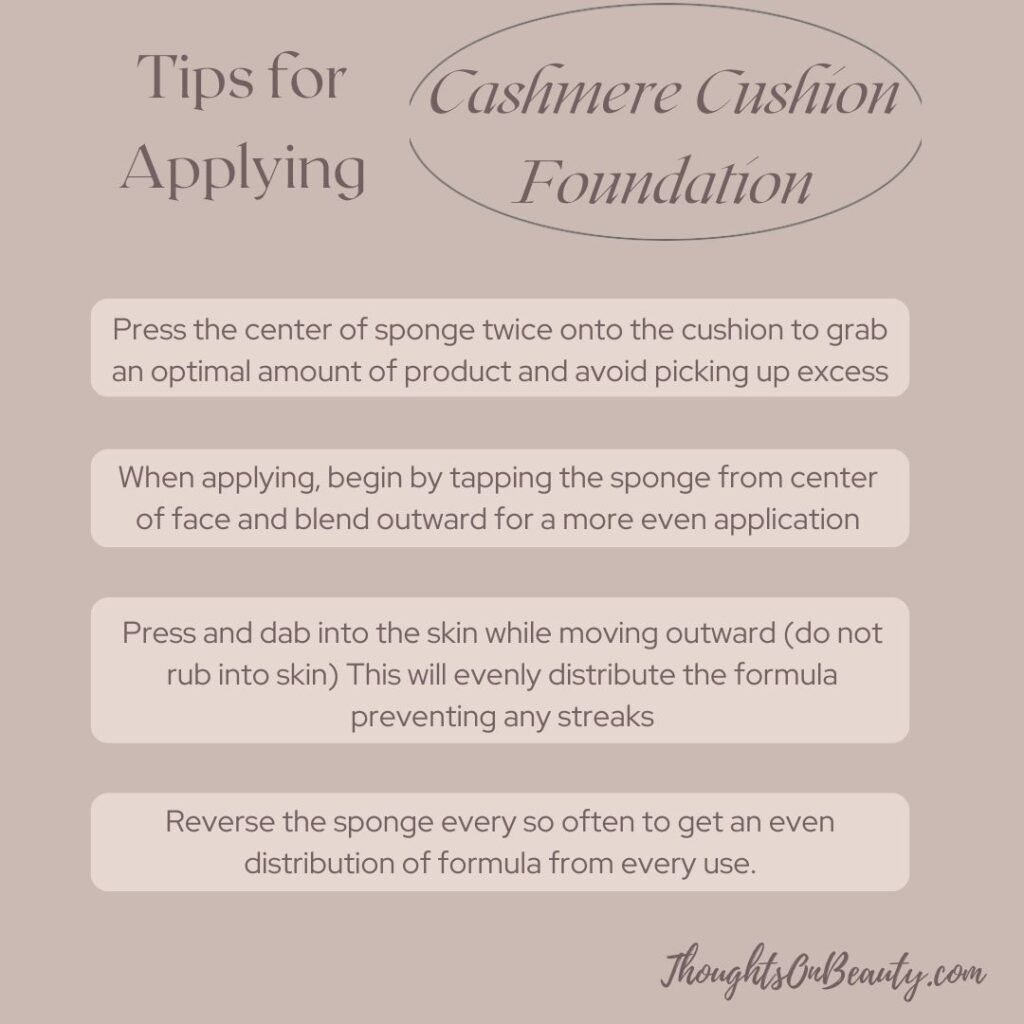 Find Your Shade
Step 1 ~ Find your undertone

*Check the back of your hand or inner wrist for you vein color.
If you're unsure of your undertone, choose a neutral shade within your skin tone range from the chart below.
Step 2 ~ Find your Cashmere Cushion Foundation shade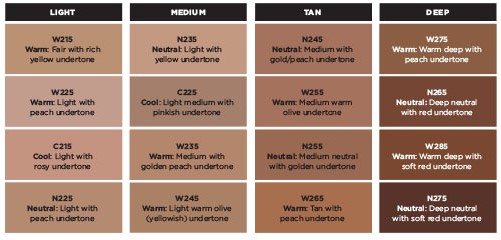 Identify your skin tone range (light, medium, deep or tan), then the undertone description that best matches you.
Try on Shades Virtually
Did you know that Avon has a Virtual Try On Tool? Test out shades for many of our color products before you buy with our virtual try on tool.

Visit any color product's page on my online store and tap or click "Try It On" to take a lipstick, eye shadow, brow definer, blush or foundation for a test drive.

You can also access the try on tool from the Digital Brochure. Look for the pink camera icon next to the product you'd like to try.
Try on Cashmere Cushion Foundation with the Virtual Try On Tool
related posts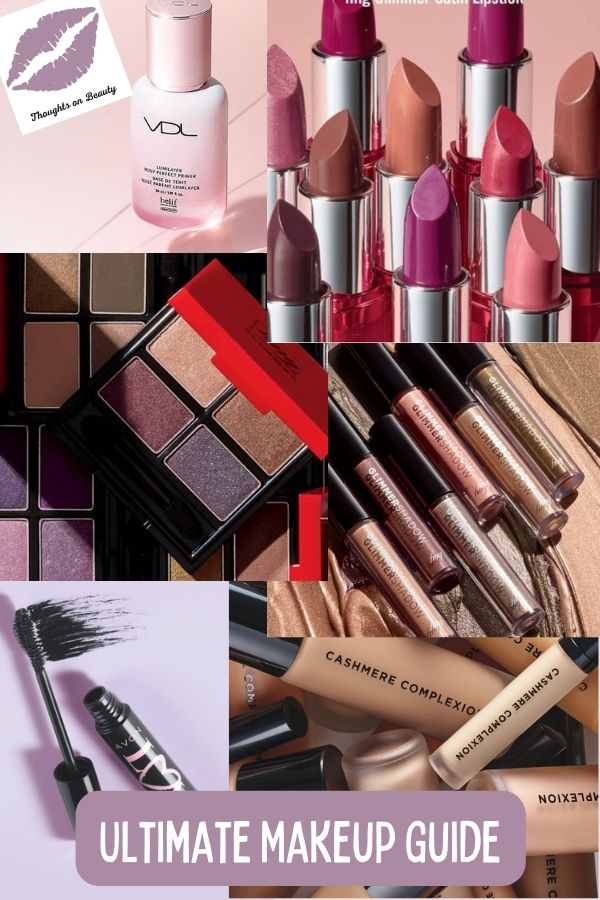 Makeup routines range from a quick mascara and lipstick all the way to a full face with all the bells and whistles. Whether you have a go-to look you wear every day or you like to change it up based on your mood or what's on your plate for that day, Let's take a look at all the steps you might like to add in your makeup routine and the products and tips that can help you get the perfect look and routine for you.

Join the Thoughts on Beauty group on Facebook to get sneak peeks at upcoming products, insider info and a bit of fun. Plus special VIP "private sale" offers.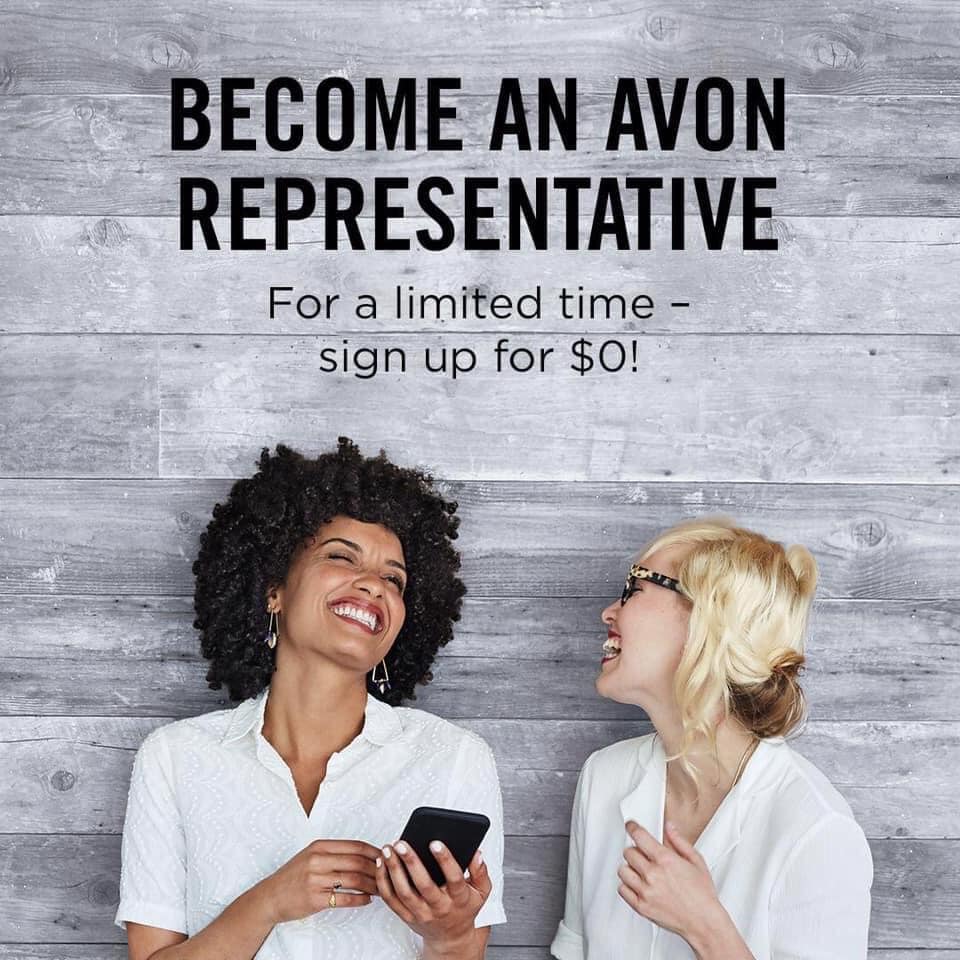 You already know and love beauty. Why not sell it?
Get all the digital tools you need.
Save 25% on your personal Beauty purchases
or earn 25% on your customer's purchases.
Get 20% discount/earnings on Fashion and Home.
Plus bonuses based on your sales and/or team sales.
Join My Team Today for Experienced Support
Buttery Soft Lips
Get luscious, nourished lips with high-shine gloss and sheer color all in …
Enter for a chance to win our latest sweepstakes or giveaway from Avon and your Avon Representative
First time visiting Thoughts on Beauty? Learn more about what we have to offer on our Welcome Page.
If you enjoyed this article, be sure to follow me on your favorite social channel.
Last Updated on September 4, 2022 by avonladychris