How to Set up Your Avon Representative Account
So you've decided you want to sell Avon online and now you need to know how to get started. Here's your step by step guide to signing up with Avon.
To join my team, the Sunrise Beauty Team for experienced support you can visit my online store and click Become a Rep or click here to go straight to the Avon sign up page.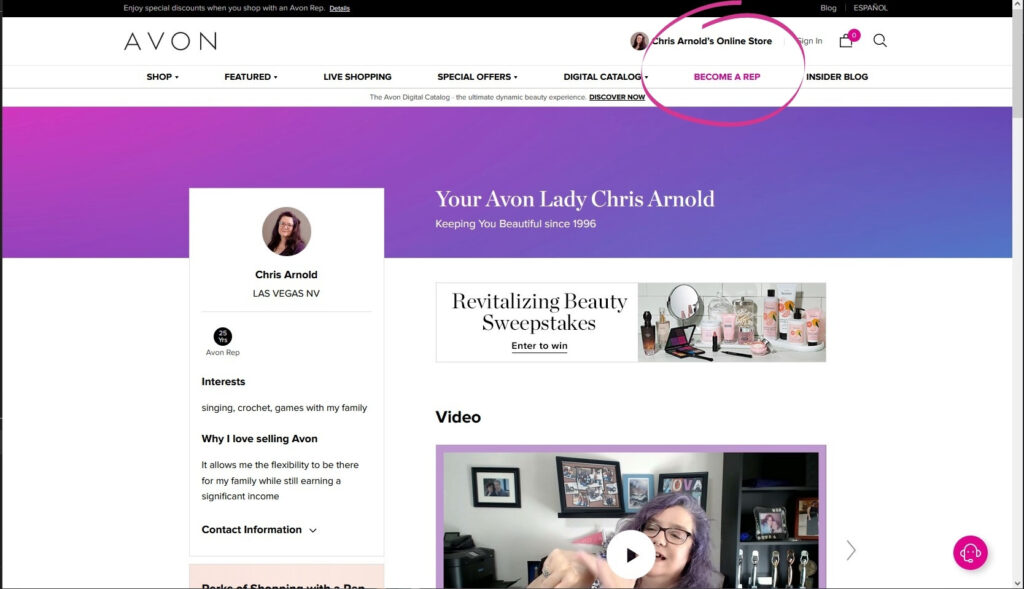 That will take you to the page with all the latest info on the benefits of being an Avon Representative. Scroll through the page to learn more or if you're ready to get started click "I'm In". Feel free to reach out to me if you have any questions not answered on the Become a Rep page.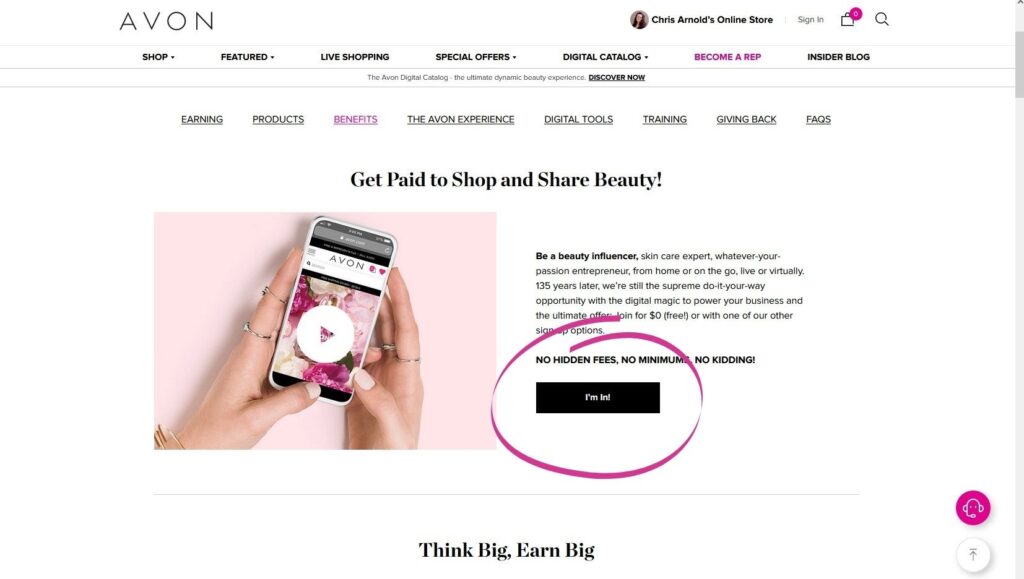 You'll need to provide Avon with some basic information to set up your account as an Avon Representative. Be sure that you choose an email address that you check regularly as email is the primary way that Avon communicates with Representatives and you don't want to miss anything important by using an email that is not functioning or that you only check occasionally. Once you're entered your name, email, a password and phone number, click on continue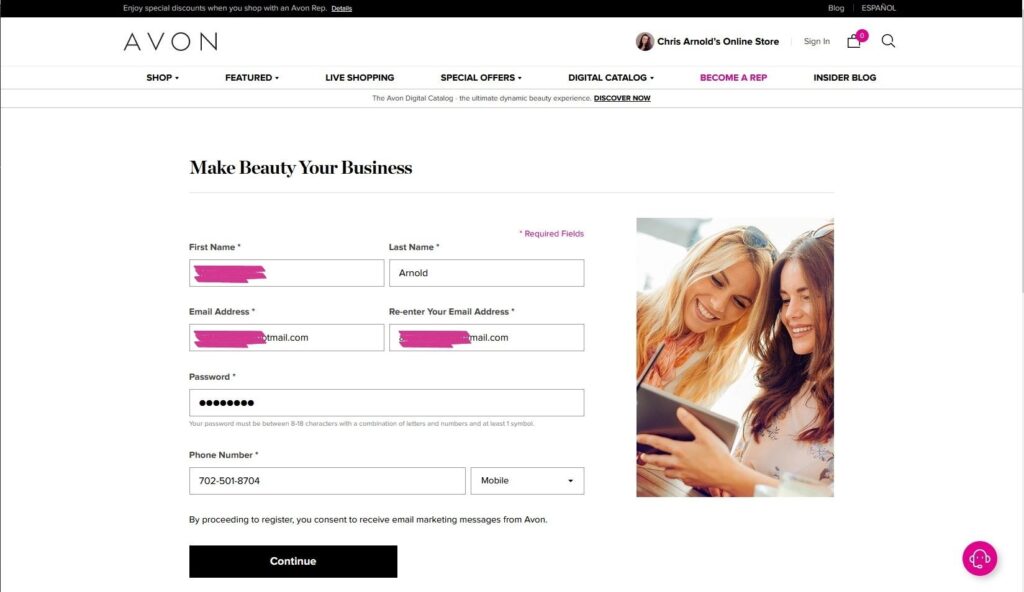 If you have previously registered as a customer you'll get a pop up letting you know that they will pull information from your customer profile to save you having to reenter that information on the next screen.
Setting Up Your Avon Account
There are 4 steps to complete on this next page:
Step 1 is your name, birth date and shipping address. Be sure to include your complete shipping address including any apartment or unit numbers as this is where you Avon orders will be shipped via UPS or a private delivery company.
Check the box at the bottom if your billing address and shipping address are the same. In the rare case that your billing address is different, for example if you have a postal mail box, you'll want to leave the box blank and fill out the billing address separately.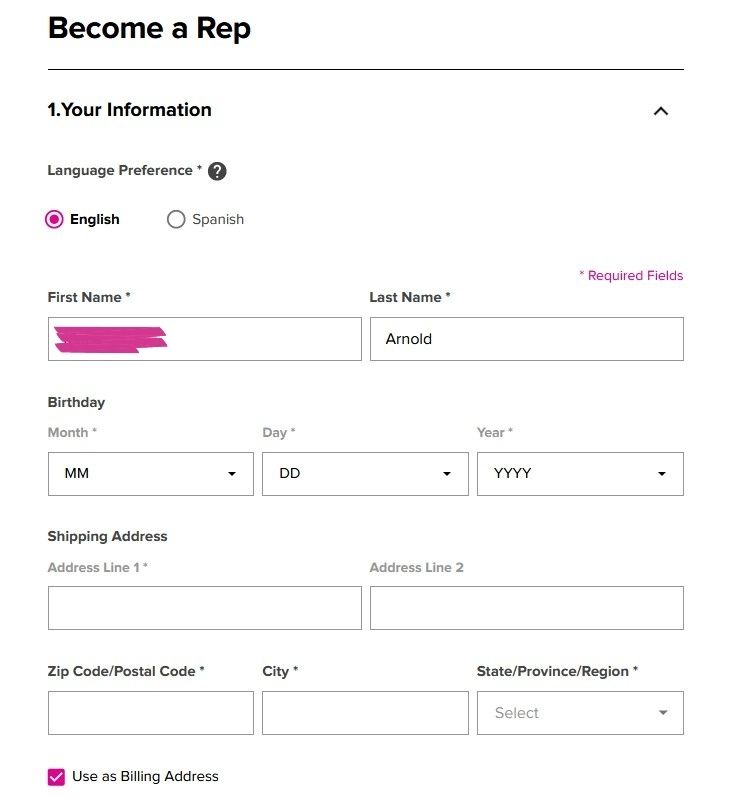 You'll get a pop up showing the UPS standardized version of your address and in most cases I recommend choosing the suggested address. Only choose the top choice if there is something about the suggested address that you know will cause issues with deliveries.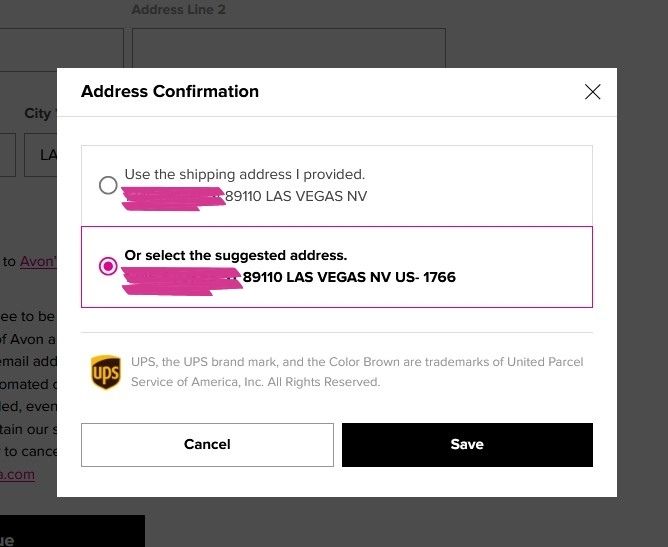 Step 2 is confirming your choice of Avon team. If you have visited my online store or clicked any of my links to start the sign up process you should see my picture and name listed as your chosen representative. If it asks you to choose a representative, you can enter my name or my referral code – carnold – to choose me as your mentor and be part of my team. If it asks for a name and location I'll be listed as Chris Arnold in Las Vegas, Nevada 89110
Why sign up with an Avon Mentor?
When you sign up with Avon there is a lot to learn if you are looking to build a business and earn an income. As an independent representative who has been where you are your Avon Mentor is uniquely qualified to not only help you work through those first steps but to help you get the most out of your Avon account, even if you are just interested in getting a discount on your own purchases.
Why choose me as your Avon mentor?
I became an Avon Representative way back in 1996 and quickly became a top seller. Over the years I've also become a top leader and earned many rewards for my achievements. I can show you how to make the most out of your Avon business based on your goals for your business. My mentoring style is based on the promise that if you're happy with your Avon business, I'm happy. Whether you want to build a big business or you just want to take advantage of the discount I'll support you in creating the Avon experience that fits your needs.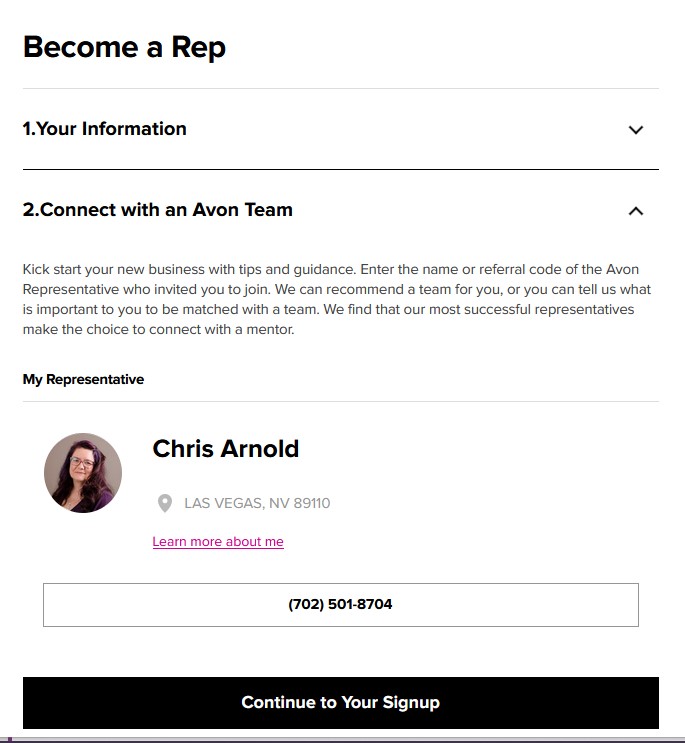 Currently there are 3 options for signing up as an Avon Representative:
Free Sign-Up – Start earning from day one with your free personalized online store for 24/7 sales plus all our digital tools and training. Sign-up does not include a starter collection, brochures (catalogs) or samples.
Free Sign-Up and Make a Contribution – Contribute $5 or more to our partner the American Cancer Society. Does not include a starter collection, brochures (catalogs) or samples but we'll connect you to all the tools and training you need online.
Best Sellers Starter Collection – Get our newest best sellers to explore and share with friends and family. 6 full-size and 18 samples, plus product-packed brochures to share for $30 flat — no shipping charge, no tax, no annual fee! ( note that you can only choose this collection at the time of sign up, you cannot go back and choose the Starter Collection later if you choose one of the other sign up options)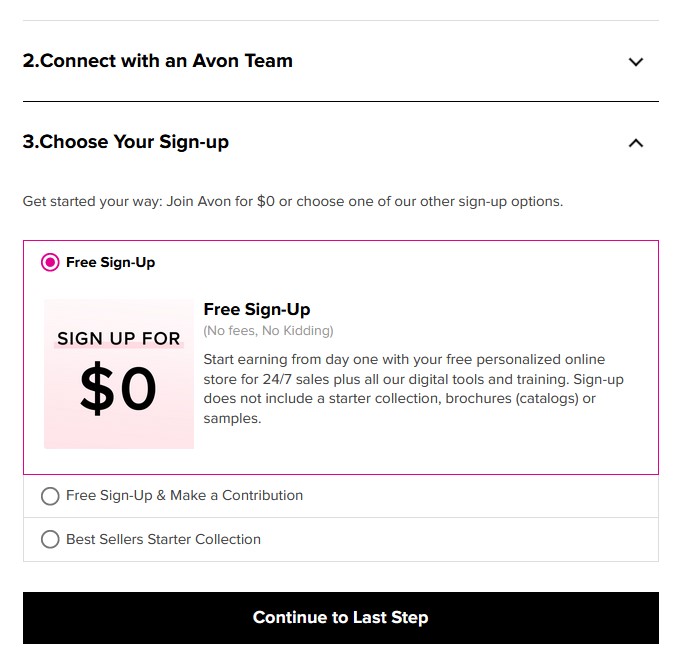 Your last step is payment, if applicable, and check out. If you've chosen the Free Sign-Up option you'll just need to check the two boxes to affirm your agreement then click complete to make your registration official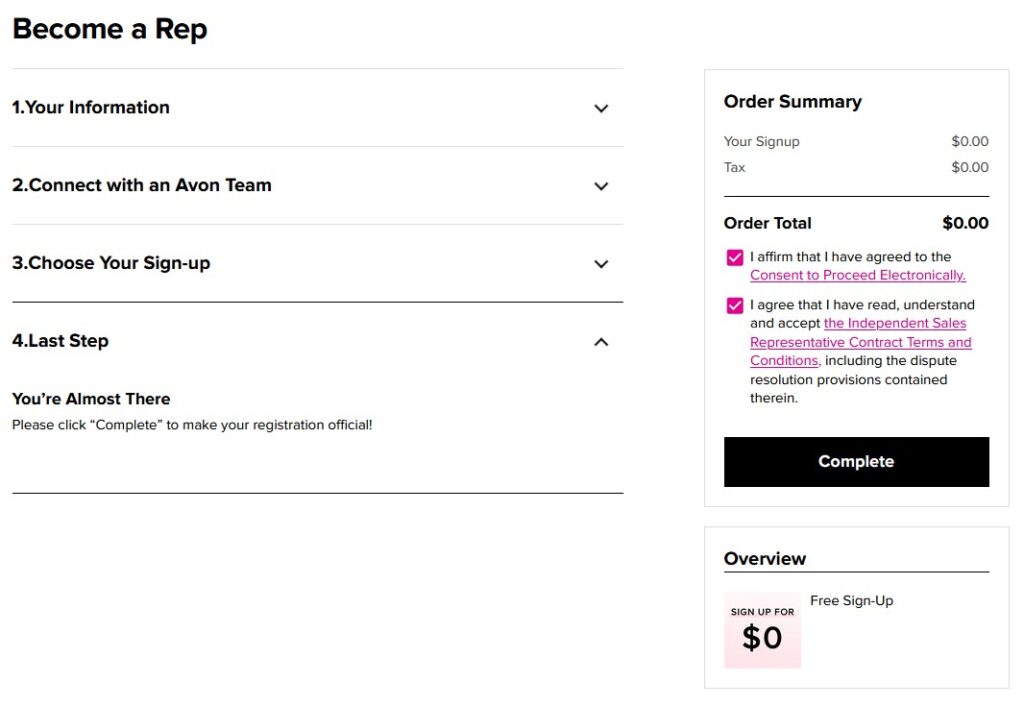 If you chose to make a contribution or the Starter Collection you'll confirm your shipping and billing information and enter your payment information, then check the two boxes to affirm your agreement then click complete to make your registration official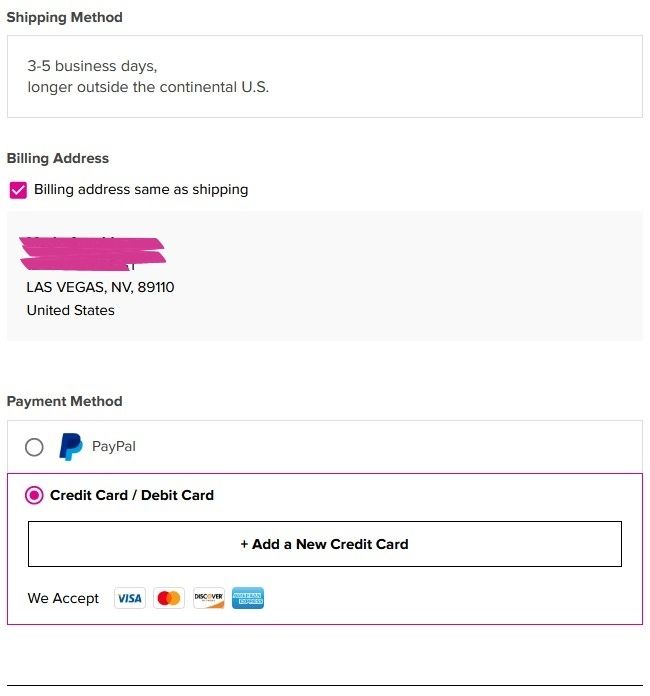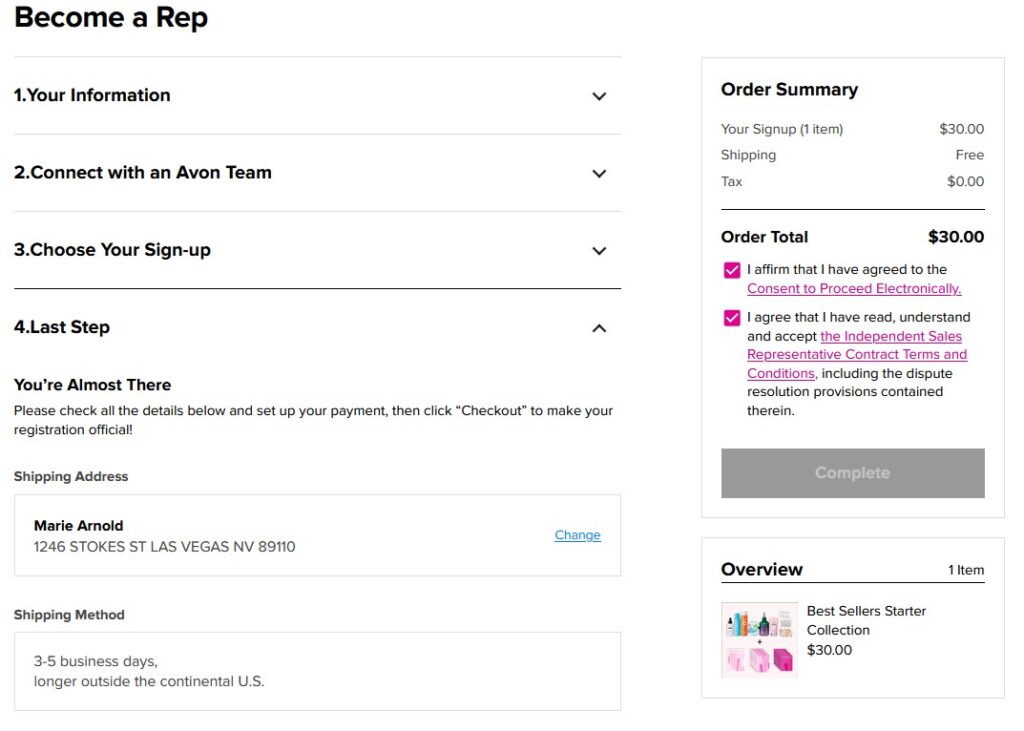 What's Next?
Once you've completed your enrollment you've be taken to your representative website. You can begin to explore the products, training and digital tools. Where you start will depend on what brought you to Avon.
If you're here for the discount, start shopping! We've expanded our product lines so much in the last few years you may be surprised at all the things you can now buy from your own store. Be sure to watch for the email from Avon with your coupon code to redeem your welcome gift when you order.
If you're interested in sharing Avon to earn a little extra money or build a business then I suggest starting with Avon U to get familiar with the website and first steps in promoting your online store.
Watch Your Email
You'll receive some very important emails in your first few days as a representative, both from Avon and from me. In addition with the email with details on how to get your free welcome gift there's essential information on getting your business started and connecting with our team and the larger Avon family.
I'll be reaching out to learn more about you and what brought you to Avon and offer one on one support for getting your business of the ground, or even just helping your choose the right products for you and your family.
Join Avon for $0
Learn more about joining Avon and how you can sign up for $0
Get connected with an Avon mentor who can answer your questions!
Don't worry, we hate spam too! You can unsubscribe at anytime.
Related Posts
How Has Avon Changed?
When I joined Avon back in 1996 so much about the business was very different from what it is today. Overall the changes have made …
First time visiting Thoughts on Beauty? Learn more about what we have to offer on our Welcome Page.
If you enjoyed this article, be sure to follow me on your favorite social channel.
Last Updated on November 29, 2022 by avonladychris