Bring Out Your Natural Radiance
Over the years, Vitamin C has garnered a reputation as a must-have ingredient in the realm of skincare. From serums to creams, this powerhouse nutrient has become a staple in countless beauty routines, and for good reason. Whether you're looking to tackle slow early skin aging, prevent sun damage, and improve the appearance of wrinkles, dark spots, and acne, or achieve a radiant glow, Vitamin C holds the key to unlocking the complexion of your dreams.
Benefits of Vitamin C in Skin Care
Powerful Antioxidant Protection: Vitamin C acts as a potent antioxidant, neutralizing free radicals that can damage skin cells and accelerate signs of aging. This protection helps reduce the appearance of fine lines, wrinkles, and sunspots, promoting a more youthful complexion.
Brightens and Evens Skin Tone: Vitamin C inhibits the production of melanin, the pigment responsible for dark spots and hyperpigmentation. Regular use of Vitamin C can help fade discoloration, even out skin tone, and enhance overall brightness, revealing a more luminous complexion.
Stimulates Collagen Production: Vitamin C plays a crucial role in collagen synthesis, a protein that provides structure and elasticity to the skin. By stimulating collagen production, Vitamin C helps improve skin firmness and elasticity, reducing the appearance of sagging and promoting a more youthful and plump complexion.
Enhances Skin Hydration: Vitamin C supports the skin's natural moisture barrier, preventing water loss and maintaining optimal hydration levels. This helps keep the skin moisturized, supple, and nourished, contributing to a healthy and glowing appearance.
Shields Against Environmental Damage: Vitamin C provides a shield against environmental stressors, such as pollution and UV rays. It helps defend the skin from oxidative damage, reduces inflammation, and supports the skin's natural defense mechanisms, promoting a healthier and more resilient complexion.
Boosts the Effectiveness of Sunscreen: When used in conjunction with sunscreen, Vitamin C can enhance its protective properties. It helps neutralize free radicals generated by UV exposure, minimizes sunburn cells, and supports the skin's natural repair process, providing a comprehensive defense against sun damage.
Anew Vitamin C Collection
The Anew Vitamin C collection from Avon has a full selection of options to help you buff, nourish and brighten your skin for a natural radiant glow. In May 2023 we're expanding our selection to include even more solutions for all over skin radiance.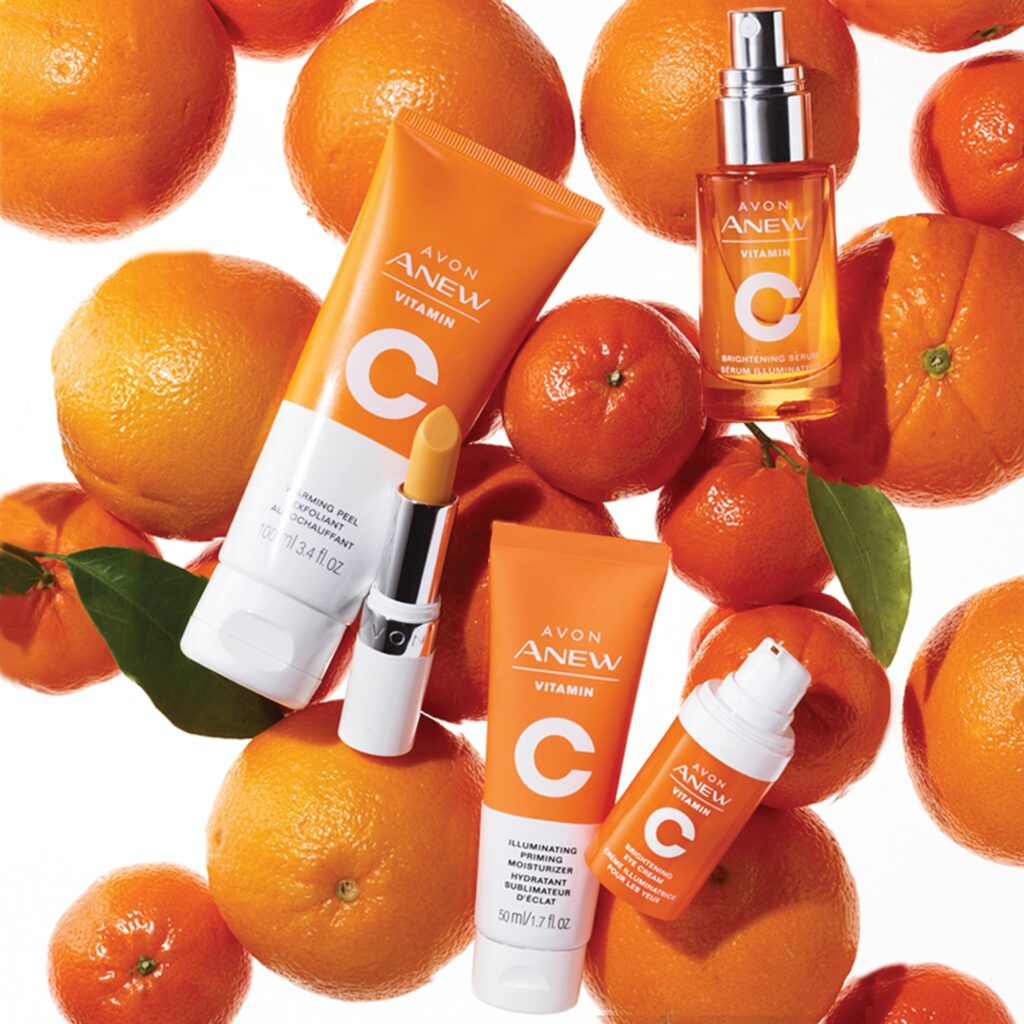 Anew Vitamin C for Face
Meet your new main squeeze for naturally radiant skin and get ready to instantly brighten the look of your skin with the power of 10% pure vitamin C. We revamped our iconic formula. It's lighter and absorbs quickly. Still packed with as much vitamin C as in 30 oranges, this super serum illuminates your dull, tired skin to look visibly energized. Show your glow and seize the day!
Our invigorating warming face peel gently exfoliates your skin while delivering a warming sensation (when activated with water!) to open pores and remove impurities. Formulated with a dual exfoliator that combines vitamin C flakes + natural seeds to buff skin so skin instantly feels softer and looks brighter.
Wake up to see softer, smoother, more vibrant skin with this overnight radiant mask. Formulated with powerful antioxidant vitamins C and E, this mask visibly improves skin texture and boosts radiance. Contains niacinamide, known to visibly improve skin tone, and shea butter and sunflower seed oil to help nourish and moisturize.
Prime and glow! Made with brightening vitamin C and skin-smoothing silicones, this revitalizing primer instantly illuminates and hydrates your complexion for a healthy, radiant look. Its moisturizing formula blurs imperfections to create the perfect canvas for makeup application or a beautifully bare finish.
Hello, bright eyes. Formulated with a powerful combination of vitamin C and niacinamide, this revitalizing eye cream visibly reduces the appearance of dark circles and leaves the under-eye area looking brighter and more even-toned.
Condition and treat lips with this overnight antioxidant lip mask, featuring vitamin C and nourishing shea butter. The moisturizing formula visibly improves lip texture. Wake up to a smoother and softer-looking pout.
Our antioxidant lip treatment is packed with vitamins C and E to condition your pout and keep it looking young. Visibly plumps and smooths lips. Sheer coverage and smooth, colorless finish.
Anew Vitamin C for Body
NEW ~ Sugar-based formula, with pineapple and papaya enzymes and coffee seed extract, exfoliates dry, dull skin, while a blend of sunflower seed oil and sweet almond oil replenishes moisture.
Get your daily dose with a nourishing plant-based dry body oil featuring antioxidant vitamins C and E. This lightweight, non-greasy body oil quickly melts into skin to instantly hydrate and visibly brighten skin. With soothing sunflower seed and jojoba oils to help keep skin feeling supple.
Get your daily dose with this illuminating body serum, formulated with antioxidant vitamins C and E to visibly improve skin's texture and boost radiance. Made with soothing sunflower seed oil and panthenol (vitamin B5) to help skin retain essential moisture, and light-reflecting pigments that leave skin looking luminous all over.
NEW ~ With hydrating shea butter and sodium PCA, enriched with niacinamide, helps restore radiance with vitamins C and E to defend against free radical damage. Uplifting fruityfloral and citrus scent.
related posts

Join the Thoughts on Beauty group on Facebook to get sneak peeks at upcoming products, insider info and a bit of fun. Plus special VIP "private sale" offers.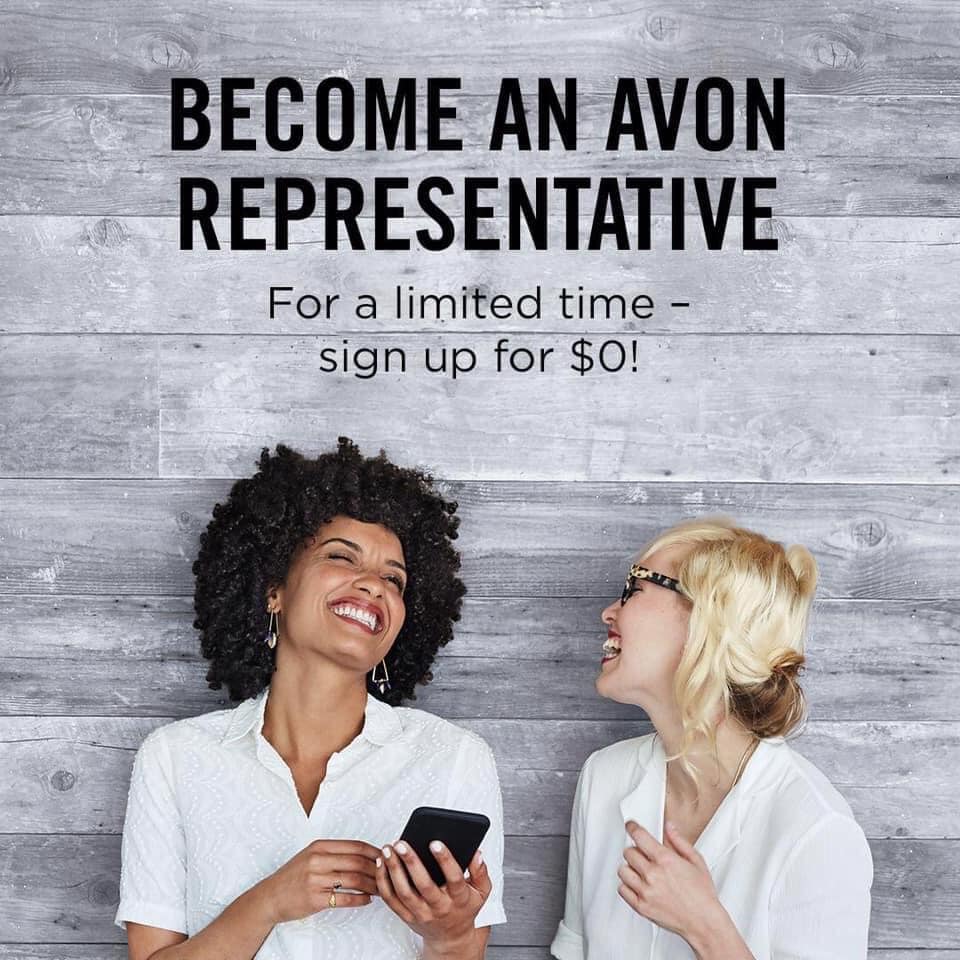 You already know and love beauty. Why not sell it?
Get all the digital tools you need.
Save 25% on your personal Beauty purchases
or earn 25% on your customer's purchases.
Get 20% discount/earnings on Fashion and Home.
Plus bonuses based on your sales and/or team sales.
Join My Team Today for Experienced Support
Enter for a chance to win our latest sweepstakes or giveaway from Avon and your Avon Representative
First time visiting Thoughts on Beauty? Learn more about what we have to offer on our Welcome Page.
If you enjoyed this article, be sure to follow me on your favorite social channel.